Thai Mini Scented Candles Incenses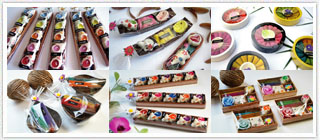 We're pleased to announce the new product line, Thai Mini Scented Candles and Thai Mini Scented Incense. There're a set of mini candles in small ceramic bowl in many shape, round, heart, star, square and many animal like elephant, rabbit, cat, dog, fish, turtle, birds, swan, fish, sheep, tiger, giraffe, bear, cow, rat, chicken, snake with small incense sticks and incense cones pack together with small floating candle and incense holder. All will pack in handmade reusable wooden boxes, beautifully packaged wrapped with a colorful decorative flowers as a final touch of class to this product.
When lit, they not only emanate scents of rose, lilly, jasmine, ocean, lemongrass, orchid, lavender, frangipani or orange, they emanate class. Accent your dinner table with one at each setting. Make your bath into something glamorous with a few around the tub. Place some on your mantel.
All product will make by our professional workers and strictly control by our highly quality control system. We, Wasila Co.,Ltd. is Thailand Candles and Incense manufacturer, factory and exporter of handmade candle since 2004.
All Candle with wick holder, this will make the candle burning longer. We can ensure our candle will burn up to 1 hrs. Export packing, 6-10 pcs pack in poly bag then put in export carton. Our packing method is passed the drop test, easy for checking and safe when delivery.
Good quality candles, incense, incense holder and flower wrapping. Good quality printing for scent name and we also provide private logo and barcode.
Order from us! You will get the most competitive prices, best delivery and good quality products. We're different from other supplier in the markets.
You will obtain our best attention on inquiry, follow-up, special requests and guarantees. We can be reached 24 Hrs. a day. Contact us at wasila@wasila.co.th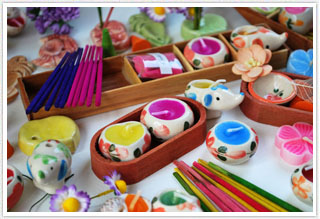 • Browse a full catalog of Thai Mini Scented Candles and Incenses